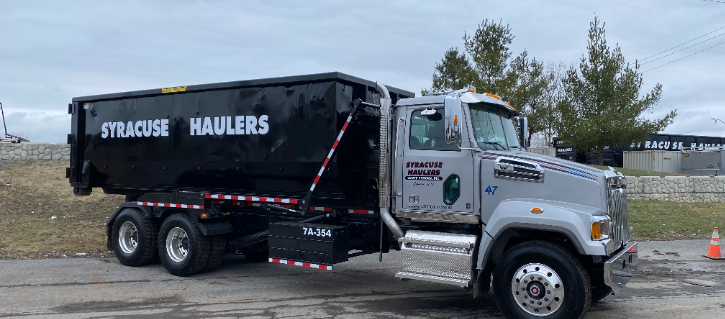 Syracuse Haulers has been hauling waste, construction debris and demolition debris in the Central New York area for over 30 years. With our large fleet of roll-off trucks and many various sizes of roll-off containers available, we can offer same day service most of the time. Roll-off Containers are available for rent.
Roll Off Container Sizes
Whether you are a large commercial business, an independent contractor or a homeowner with your own remodeling project; we have a variety of sizes readily available to meet your needs. We also offer a wide range of closed top containers and compactors as well.
The following information will give you an idea of the sizes and possible applications:
Containers can be used for mixed construction and demolition material
Industrial and manufacturing waste
Dirt, Rock, concrete, stumps, cars, iron, steel and general household clean up
If you're doing a roof job, most shingles weigh approximately 225 lbs. per square
Take the number of squares and multiply that by their weight, then multiply by the number of layers of shingles
This should give you a good idea of how much your container will weigh
Concrete weighs about one ton per cubic yard
This material is always better kept separate from other materials
Clean concrete can be recycled into many different products and also may be used as fill

The Following Materials *CANNOT* be disposed of in our Roll-Off Containers:
Hazardous Materials: Gasoline, Oil, Antifreeze, Any Flammable Liquids / Materials
Tanks (I.E. Propane, Helium, Etc.)
55-gallon drums (Can only be disposed of if Clean, Empty and Cut in half)
No Yard Waste / Brush
Light Ballasts (Can be put in Separate Container and Marked Accordingly)
Wet Paint in Cans (Does not Apply to Open, Dried out Paint Cans)
Batteries

The Following CAN be disposed of in our containers for an Extra Charge:
Tires 
Appliances with Freon Unit (I.E. Refrigerators, Air Conditioners) 
Microwaves, TV's, Computer Monitors, VCR's